Vehicle Dynamics of Modern Passenger Cars
Masao Nagai and Pongsathorn Raksincharoensak, Chapter 5, Chassis Control and Automated Driving (CISM International Centre for Mechanical Sciences), Springer-Verlag 2018.
Autonomous driving control system design for modern passenger cars
IEEE Vehicle Power and Propulsion Conference,Tutorial 1, 14-17 October 2019.
Risk Prediction Methodology Based on Near Miss Incident Database
4th International Symposium on Advanced VehicleTechnology (ISAVT2019),
Kanagawa Institute of Technology, Japan,September 4-6, 2019.
FAST-zero'19 Best Paper Award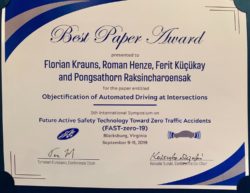 "Objectification of Automated Driving at Intersections"
Florian Krauns, Roman Henze, Ferit Kucukay and Pongsathorn Raksincharoensak
September 9, 2019.
JSME Transportation and Logistics Division (TRANSLOG2018), Certificate of Merit for Paper and Presentation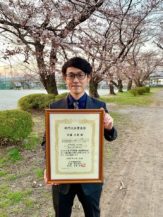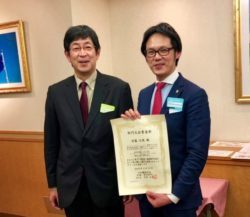 "Estimation of Preview Road Displacement for Preview Suspension Control"
―Realtime Estimation of Road surface displacement with on-board stereo vision―
Fumiya SATO, Naofumi KOBAYASHI, Pongsathorn RAKSINCHAROENSAK, Kaisei HASHIMOTO, Atsuto OGINO
March 13, 2019.
COPYRIGHT ©2019 PONGSATHORN LAB. ALL RIGHTS RESERVED.
Page Top
Close
About us

Research

Publications

Link